A Mood for Every Night of The Week in Miami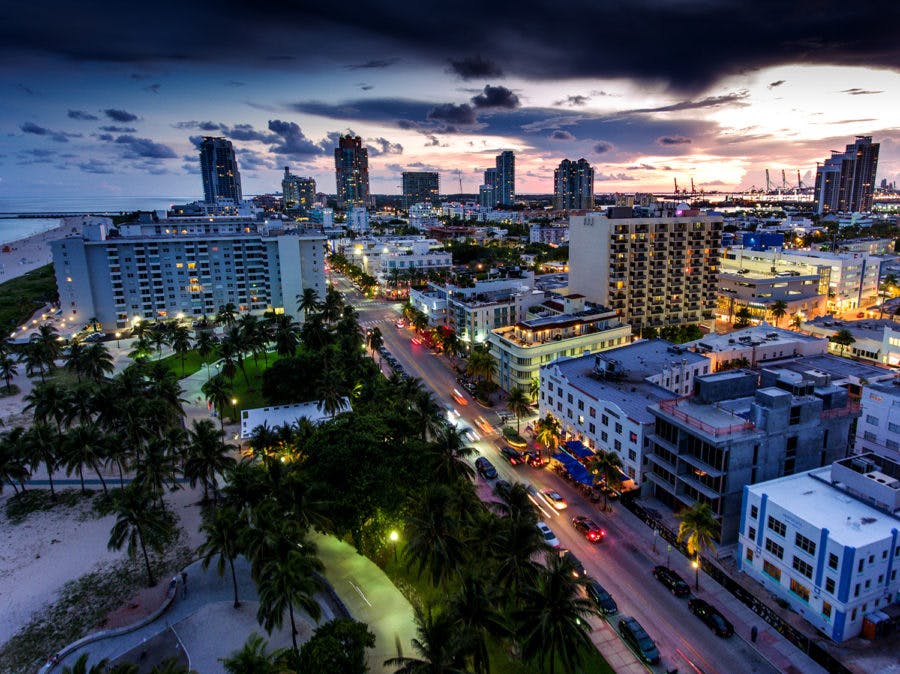 Miami Love
One of the best-known cities in Florida is in its southern region. Miami is a city known for its multicultural essence and dual personality. By day Miami is known for its beautiful sandy beaches, famous resorts, and tropical weather, making it one of the most popular tourist destination spots for families in the United States. By night, Miami comes alive with its lively nightlife that anyone young at heart dreams of and that Hollywood movies reveal to be true. It is a hot spot for destination weddings, for the beautiful beaches, for College Spring Breaks, for the gorgeous people, for its clubs, and its restaurants. Places that create memories that forever stay with the person. The restaurants that always set the mood for the night to begin. These extra options are spectacular since not everyone feels like going clubbing every night of the week. Here is where Miami's multicultural vibes come to the surface. Besides night clubs to visit, Miami also has theaters, museums, galleries, sporting arenas, casinos, concerts, and theme parks. It all depends on what you are in the mood to do. Many people decide on an event or activity days or weeks in advance, and often, the night plans start with a good meal with friends, family, or both. Finding a restaurant or catering service that has excellent food and a great vibe is what many people search for to set the mood outright for a fantastic night.
Rustiko
Rustiko is a beautiful kosher Italian restaurant in Surfside, Florida. The Rustiko Bistro is a small and cozy place that welcomes any guest with its intimate lighting and settings. With a rustic decor, this Gourmet Artisan Bistro has impressive lunch and dinner menus that will start any night right. You could say that the motto of this Bistro is to remain "true to the Italian region." While some parts of the menus will change around due to the seasons, their focus is the diverse kinds of pasta & pizzas that they offer to their customers. They do also provide other traditional items like eggplant and tuna dishes as well. They take their ingredients seriously and like to challenge themselves with their small plate dishes. The small plates are new and inspiring dishes that are inspired by international and seasonal ingredients. There is also a dessert menu that can be paired nicely with a wide range of wines that will appeal to any pallet. Rustiko would be the perfect restaurant to set the mood for a night out on the town when wanting to see a show or a play, for example.
Fresko
Fresko is another food industry business that is owned by the same company listed above. It is a kosher catering company that offers "a mix of flavors." Influenced dramatically by Latin, Asian, and Mediterranean ingredients for their breakfast and lunch menus, there is a never-ending amount of fresh juices and wines to be enjoyed with your meal. Fresko focuses on light, fresh ingredients for fantastic meals that create a warm and family-friendly atmosphere both within their small dining area and at any of the events that they cater to for the evening. The catering makes Fresko perfect for any office party or family gatherings during the day or evening. With a wide range of flavors and different themes on every menu, even a picky eater will be able to find something to delight their taste buds without having to go hungry.
Every Night Has a Theme
With other restaurants like Kosh, which is a sister restaurant to the companies listed above, there is a different flavor for every night of the week. With its upscale but relaxed atmosphere, any businessman or woman would feel comfortable eating here with their signature tapas, popular Asian dishes, and the Steakhouse favorites that many of us have come to know, love, and crave. Kosh is another beautiful restaurant to have a first date at, to celebrate a birthday or anniversary before going out on the town. No matter the food cravings you have or the different events or parties you want to attend, Miami does not disappoint. It is the goal of Miami to set the standard of having the most perfect and enjoyable day at the beach than to have a night filled with fun and memories. The nightlife experiences nor the people that you will meet will never be the same unless you allow it to be. To be able to enjoy fresh ingredients for that perfect meal before venturing out to see a movie, play, sporting event, or yes, going out the club is the goal of anyone who wants to have a great night out in Miami.